M

w

a

h

-

H

a

-

H

a

-

H

a

-

H

a

!

!

!

!
Yeah, that's my best evil laugh. Gives you chills, doesn't it?

With Hallowe'en nearly here, I've been totally grooving the season and getting my Hannibal Lecter on. Not, obviously, in a fava-bean-and-a-nice-chiati kind of way; more just the spirit of creepy and spooky and scary. It's my favourite time of year for the Dusk channel and horror movies, which I ordinarily avoid like the plague.
Time-out for some honesty: I am a huge chicken. HUGE. Scary movies sometimes give me indigestion and always give me nightmares, and have been known to make me cry occassionally. So no, I don't know why I like them but there it is: October makes me love them.

But my favourite, favourite part of the Hallowe'en season is by far creativity and dramatic talents of my neighbours and in my community at large. On many streets around town there exists a game of good-natured one-up-manship, where each house competes with the next for the most elaborate, creative, detailed and often scary decorations. It's really quite amazing, and as we stop at each house (because of course, the kids insist on trick-or-treating those streets specifically) I often marvel at the lengths to which people go for a holiday house. More than any other special occassion - even Christmas! - Hallowe'en seems to bring out the kid in everybody.

It makes me wonder where people get their inspiration, so naturally I turned to ye olde internet to see what sort of creativity I could
scare up
. What a plethora of choice! Here are some of my favourites:
I love how busy and homey this Hallowe'en terrace is. It's very much "countrified," sure, and may not work for every home, but the detail is incredible. Who wouldn't want to have coffee on a crisp October morning on this porch?
~ image via here ~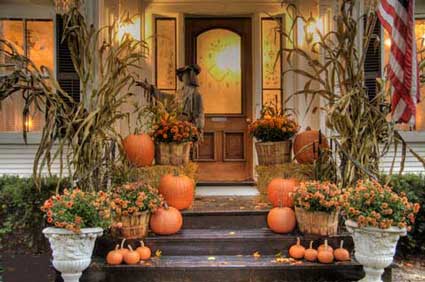 Simple, pretty, and minus the scarecrow, perfect to celebrate all-fall-season long
~ image via here ~
So terrifying. Love it!
~ image via here ~
A little tame on the scariness scale but a perfect way to celebrate the season with little ones
~ image via here ~
This is exactly the type of house I would avoid when I was little (too scary!) but I'm all grown up now, and
I love and appreciate every frightening detail
~ image via here ~
Maybe not the most sophisticated display overall but anything that lights up is OK in my book
~ image via here ~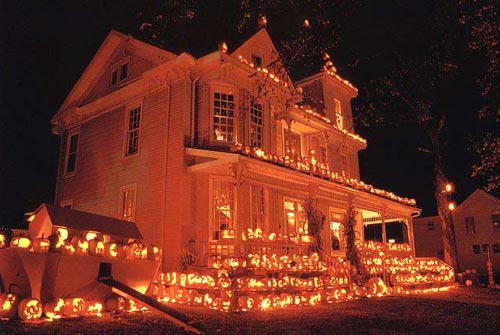 Oh my gosh ... can you imagine?
~ image via here ~
It might not be the most gory house, but playing into the naturally creepy feel of an old Victorian works like a charm!
~ image via here ~
I hope this put you in an All Hallow's Eve mood right along with me! If you're on the streets tonight with little ones I wish you safe trekking and a great haul for the kids. If you're shelling out, enjoy the costumes of those little door-knockers! I'll be walking around tonight with our little vampire and carrying her treat bag when it gets too heavy, and taking snaps of the local houses to share with you tomorrow.

Happy Hallowe'en!