It's almost hee-eere! I'm rolling out my checklists (and checking them twice), and buckling down on my holiday decorating in preparation for the big day ~ I picked up a bunch of beautiful and fragrant spruce boughs today at the Superstore for a steal of a deal at just $1.99! (I'll share what I'm doing with them tomorrow).

I love the final push towards Christmas, and of getting the house ready to host family and friends. We usually keep our decorating to the more restrained side, but it's awfully tempting to go overboard: sometimes more
is
more! If you're like me and you're spending these final few days racing to the festive finish line, here's some inspiration to get those creative juices flowing ...
The rustic French provencal style of this room is beautiful enough, but the
gorgeous cool blue decorations ramps up the glam factor by a hundred
via here
I long for a fireplace all year round (and regularly lament that we don't have one), but never more so than at
Christmas. There would be no limit to my decorating magic ... if only I had a mantel!
via here
I don't know if I could get my festive on in a such a contemporary decorating scheme, but I'd sure be
willing to give it the old college try!
via here
Shut up, right? I know ... stop it.
via here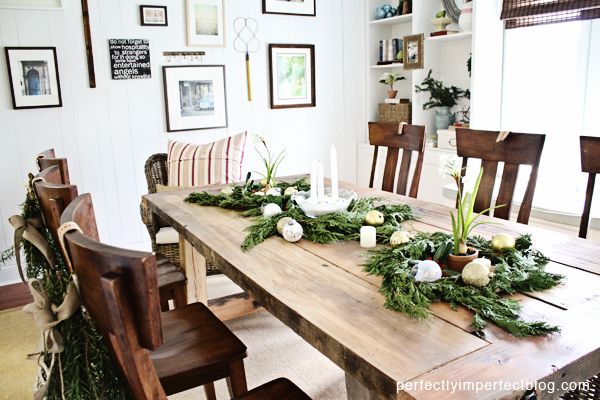 I love how festive these decorations are without being overtly "Christmasy". They really celebrate the beauty and
the elegance of the whole season, and marry the outdoors within. I *heart*
via here
The homespun, slightly spare look of this Nordic-inspired design
makes my heart go pitty-pat ...
via here
Only

4 SLEEPS, 3 HOURS, 1 MINUTE AND 45 .. 44 .. 43 .. 42 SECONDS

to go!!!!
Visit the Christmas Countdown for up to the minute stats on Santa's arrival
via here