Despite the endless list of tasks that require my attention in the house, the one that's dominating all of my waking (and some of my dreaming) throughts is painting our bedroom. It might be that the onset of winter has me in a particularly romantic mood; I always find that cold and dreary weather inspires the urge to cocoon. Or it could be that I really do have an expiry date on my willingness to live with ugly green walls covered in a patchwork of grey test squares, and that best-before date is, like, now.

Anyhoo, I have a very distinct idea about how I want the room to look but before I commit brush to wall, I thought I'd check out some online inspiration to see if I could find something I liked better than what I've got in my head already. Here's are few that caught my eye:
I love the spare, puritan feel of this room but I'm not sure I could live here. It doesn't feel like love-in sort of place, you know?
image via here
I love how masculine this room is, but I think it's the art that really does it for me
image via here
I love this one ... LOVE IT
image via here
It's a little too "Ralph-Lauren, saddle-up-and-giddy-up" for me to live in, but I really respond to how serene it feels
image via here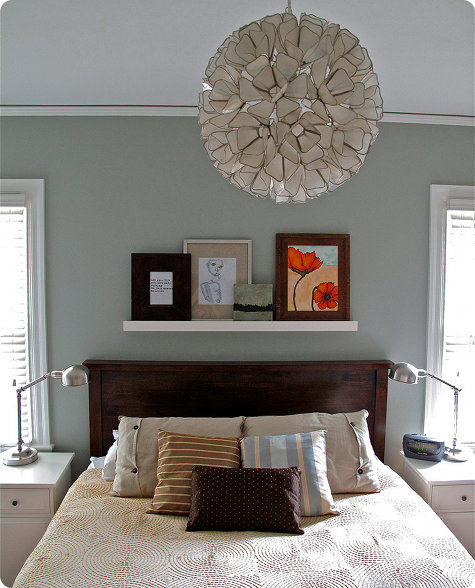 Not nearly dark enough, but that light fixture is to die for
image via here
If only I could convince Daryn to string Christmas lights up on a headboard, I would be an insanely
happy girl. Alas, it's not to be: he objects to the fire hazard. It's how I know we're officially old.
image via here
All beautiful, and all with aspects I'd love to incorporate into my own room, but none that might make me sway from the plan. I've got a boho-artsy style going on in my brain, so now it's just a matter of translating that to my palette! I think this might deserve some serious consideration, and maybe a few bumps up the priority ladder? We'll see ...