As mentioned last week, my creative juices are starting to burble away on a low simmer but I still feel like they need a shot in the arm. Something to really push them to a rolling boil. What's better, then, than a little online "window" shopping? Here are just some of the things that are whetting my design appetite this week: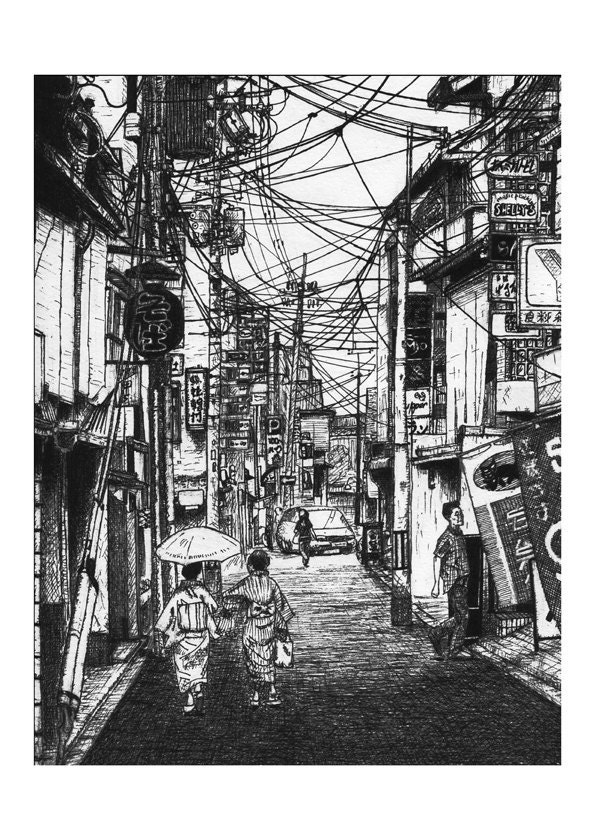 ~ Line Drawings ~
I assume it's due to the influence of class, but I've taken a recent shine to line drawings of all types. I love the marriage of simplicity and complexity - with no color to distract you, all you see is the image. It's very honest, and I'm a big fan.
image via Etsy: Malobi
~ Kitschy Kitchen Accessories ~
I honestly can't say exactly how functional these pieces are since I can't get them past Daryn and into the house (ditto any dishware stencilled with farm animals, and gold flatware). I have deep suspicions, however, that these are just the ticket to making a perfect kitchen: like the cherry on top finishes the ice cream sundae!
Owl Measuring Cups and Santa Cookie Jar via West Elm
~ Stripy Socks ~
If you weren't skeptical of my tastes (and sanity) after the owl measuring cups, I'm sure by now I've lost all credibility with striped socks but I gotta tell you: I have three pairs of these bad boys and I LOVE them. I wear them everywhere, including to the office when I worked at the bank! They're quirky, whimsical, inexpensive and comfortable.
What's not to love?
image via Sock Dreams
~ Vintage Union Jack Flags ~
At my favourite Christie Antique Show in September, I scored an amazing mint-condition antique Union Jack flag for an equally amazing hundred bucks!! It's huge ... like, ginormous: I haven't measured but I'm guessing 6'x8'. The plan (if all goes well) is to hang it in "wreck" room when eventually we get down there. For now it's sitting folded in our office, waiting (with about four thousand other items) for a time when budget and time breed together to equal installation.
image via The Girl In The Brick House
~ Stylish Storage ~
In an on-going effort to feed my family more healthily and economically (hello! sabbatical without salary!), I've embraced some previously ignored options like dried legumes and alternative grains. Trouble is, they clutter up our already messy pantry and are both unhygenic and, let's face it, fugly. I'm on a mission to find attractive and functional pantry storage to pretty up our cupboards. I'll keep you posted!
image via Elements at Home
~ Cozy Throw Blankets ~
These chunky cable knit beauties are from Pottery Barn, but I'm pretty much loving any sort of throw these days. My biggest fantasy these days is curling up in the corner of the couch in my pajamas with a blanket tucked around me, sipping a hot chocolate and reading a book, and these babies would be just perfect. Better yet, they're on sale!
image via Pottery Barn
I usually obsess about big-ticket items but it seems that with the changing of the weather, I'm getting down and dirty with the details. 'Tis the season, I suppose. Now if I can just squeeze some extra coins from the budget to treat myself to a little something new ....

Hope everything is well in your world!