The word I would most closely associate with my lawn and gardens - all my outside space, really - is unfortunate. Also disappointing. Frustrating. And ugly.

That's more than one word. Sorry. But my gardens and I clearly have issues.

I don't fault the garden: it has dirt, it grows stuff. I'm the absentee gardener who does absolutely nothing with my landscape, so I blame myself entirely. I think sometimes my garden likes to toy with my emotions
(yeah, I'm talking to you, peony bush that I keeps coming back like the proverbial cat)
but I'm an adult and I take responsibility for what I do ... and don't do!

So here I am taking full responsibility, which is great and all but doesn't change the fact that our landscape looks like our house has been a wee bit abandoned. I've tried to label our front yard as
meadow-like
, but really it's just an affront to our grass-loving neighbours everywhere. A million dandelions and some thistles do not a lovely garden make :)

Knowing that it's my responsibility AND that of course gardens do not design or plant themselves, I've resigned myself to keeping the weeds clipped and in control until next year which is when we will actually have time to deal with it. Until then, I spend a lot of time admiring the well-planned, well-tended, well-loved gardens of my friends and neighbours.

Also, being the obsessive planner that I am I've already got my list going of plants and flowers I'd like to include when at last I get around to exercising my green muscles! Below are some gorgeous gardens from around the world that I could stare at for hours and from which I intend to freely poach design ideas for my own space. I hope you'll find them as inspirational as I do!
We clearly don't have a pond in the backyard to leverage for this picturesque canoe situation, but I wonder how D. would feel about throwing a boat in the pool? Something to noodle around, and maybe slip into conversation after a glass of wine (or four!)
via here
Fairly certain this is a park in Japan, but also fairly certain I could totally recreate this in my 5x14' dirt patch
via here
Who says gardens have to be all fancy-and-flowery? This beautiful garden is chock-full of edible, useful and delicious herbs. Last year we planted a small plot in the front garden with six different types of herbs: they grew like wildfire, filled in all the bare spots (read: spread like crazy - they are aggressive!) and smelled amazing. All that and we had herb-filled omelets every weekend courtesy of our own front yard. Fantastic!
via
here
This kind of mostly-greenery-highlighted-with-some-flowers-in-vibrant-hues is right up my alley
via here
I look at this and see so much work, but I still really really want it in my front yard
via here
Planter gardens: not just for urban dwellers any more! Suburbanites UNITE and embrace the garden-in-a-box!
via here
I love the idea of wildflower gardens; I think the appeal is in the low-maintenance approach. But I suspect the "no work" thing might be a myth. I wonder if it's like the "natural" look with make-up, where it takes the MOST work to look like you're wearing the LEAST amount of product.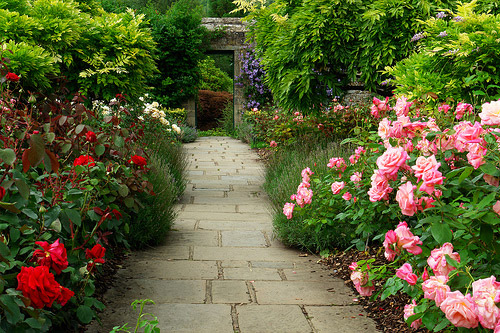 I don't generally love the roses but if I were to have a rose garden, I would want it to look like this
via here
Would any garden gallery be complete without a photo of Monet's gardens at Giverny? I may not appreciate his paintings, but I sure do appreciate his gift for landscaping
via here
Last but not least, a pretty picture and a shameless plug for sort-of-local tourism. The Royal Botanical Garden in Burlington is a lovely place to spend a leisurely afternoon.
via here
"No two gardens are the same. No two days are the same in one garden."